Location: Johannes Gutenberg-Universität Mainz
Public transportation in Mainz and trains connections to Frankfurt Airport
From Frankfurt International Airport
By train: Frankfurt Airport is connected to Mainz Central Station ("Mainz Hbf") via regular direct regional trains from its regional train station (not long-distance train station!). No prebooking is required. Tickets can be bought from ticket machines in the train station (cash, credit card, EC card). Take either S8 train (not S9!) or RE (Koblenz Hbf or Saarbrücken Hbf). Costs: about 5 € one-way. Travel duration: 26 min. Timetables: https://www.rmv.de/c/de/start
By cab: it takes 25-35 min. Costs: 60-70 € one-way.
From Mainz main station (Hauptbahnhof)
On foot: Take back exit ("Ausgang West"). Walking distance 15 min.
By bus/tramway (streetcar): On station square, bus bay G, 6 (Richtung Münchfeld/Gonsenheim)
• 51 (dir. Lerchenberg)
• 53 (dir. Lerchenberg)
• 54 (dir. Klein-Winternheim)
• 55 (dir. Finthen)
• 56 (dir. Finthen/Wackernheim)
• 57 (dir. Bretzenheim)
• 59 (dir. Hochschule Mainz)
• 64 (dir. Hartenberg)
• 65 (dir. Hartenberg)
• 68 (dir. Budenheim)
• 75 (dir. Schwabenheim/Ingelheim)
• 90 (dir. Finthen)
• 91 (dir. Lerchenberg)
• 650 (dir. Sprendlingen)
Buses leave every few minutes. Exit "Universität" (2 stops). Travel duration 5 min. We suggest taking 51,53 or 59, which directly stop at the main entrance of the university.
Short-trip tickets (1,75 €) can be bought from the driver (cash) or from ticket machines at the bus stop (cash, EC card).
By cab: Main Station square. Travel duration 5 min.
From EJ9 Hotel:
Go down Emerich-Josef-Straße (downhill) and cross the tramway tracks. You find the bus/tramway stop on the left (direction Hauptbahnhof / Main Station).
Language: The official language is German. However, most people in Germany can understand and speak basic English. The conference language is English.
Time: In Mainz we have Central European Time (CET).
Electricity: You might have to use an adapter if the plugs in your country look any different from the ones in the picture.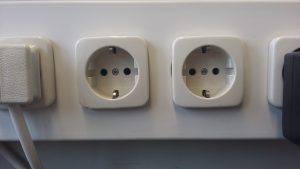 Tipping: In Germany it is customary to tip waiters. Usually a tip is around 10% of the bill. Taxi drivers can keep the change, when it is around 1 euro, the same goes for porters.
Money: In Germany you pay with the euro (€). There are exchange possibilities at the airport and in the city.
Food and Beverage: You can drink the tap water in Germany.
Identification: You are required to carry your identification card all the time. The police can ask for your ID at any moment.