Welcome to our website. We host the International Students' Conference ICON Mainz 
here at Johannes Gutenberg-Universität Mainz.
On this page you find news on our activities.
Our new Call for Papers is out!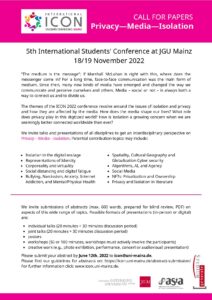 "Privacy–Media–Isolation" is going to be the topic of the 5th ICON Conference taking place Nov 18 and 19, 2022. Is this topic sparking your interest? Are you a student researching this field? Or do you know students engaged with that matter? Then have a closer look at our Call for Papers page.
We are hiring!
Well, ... sort of.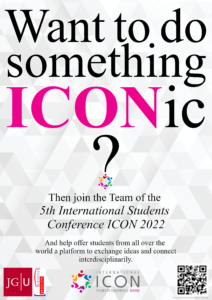 Even though the previous conference just took place, we are already hard at work planning the 5th installment of ICON. Since the ICON team is made up of student volunteers, we are always looking for new members interested in organization, design, editing, and advertisement.
Interested? Then check out our
Join the Team
page!
ICON 2021 was a full success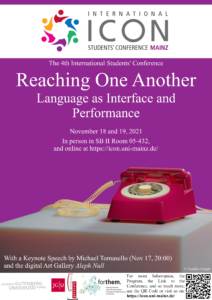 Thank you to our speakers and all participants!
Click here to learn more about this year's conference, see the program, have an overview of our workshops, and find a brochure with information on our international and interdisciplinary speakers.
The Digital Gallery Aleph Null is online

Aleph Null is an interactive 3D gallery made as an art project specifically for ICON 2021. It was designed and programmed by the Greek artist Vassilis Cooper, with some ideas by Stef Stafylopati and Jan Jokisch, and features additional artworks by Nikki Bountri.
It loosely explores the artistic expression of emotion and beauty through simple, minimal aesthetics, creating a timeless liminal space by incorporating anachronistic architecture, spatial illusions and both digital and physical art.
You can download it here: https://saprosoionos.itch.io/aleph-null